Want to Increase Patient Satisfaction in Five Seconds?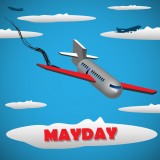 "Oh Shit!" the 747 pilot exclaims over the intercom. "Prepare for a crash landing folks, the autopilot led us astray while I wasn't paying attention. I thought we were still at 37,000 feet, but apparently we have thirty seconds until impact. Sorry about that." As the passengers around you begin shrieking and screaming and scrabbling around, you think to yourself "Autopilot?!? How can this have happened?"
Indeed, how can this have happened? Actually, we humans go on mental autopilot all the time, especially when we are bored, tired, overwhelmed, stressed, or "hangry…" or pretty much any other non-ideal feeling or situation. This state is the opposite of mindfulness. Normally this isn't that big of a deal, but for certain professionals, like pilots and nurse practitioners, the consequences can be deadly to those we are taking care of.
"Okay Samantha, I'm paying attention. What do you want me to do?"
Turn Off Autopilot
 Specifically, turn it off when you are meeting a new patient, or going into a room with a patient/family that you don't know well, or whose situation you don't remember well. Sure, you have the chart to remind you, but I'm talking about five seconds of attention that can drastically improve patient satisfaction.
Patients know when we remember them and when we don't. And when we don't, they feel less valued and less cared for. This affects not only patient satisfaction, but patient outcomes as well.
"But it's hard!" you say. "I just don't remember names; it's not my fault!" you say.
If I Can Do It, So Can You
 I suck at remembering names. Really. Ask my friends. Especially the ones whose names I can't remember… I feel like such an idiot when it happens. I make a herculean effort with my patients, though, but only for five seconds.
Remembering names is not an "innate gift" for most of us, but rather a skill that can be learned. Many of us think that we "can't remember names." The true problem is that we simply don't pay attention, because our brains are elsewhere. Either we are still thinking about our last patient, that difficult case we haven't figured out yet, or wondering what this patient might need. Whatever it is, we are rarely present in the first few seconds of the encounter.
It's Time To Start Being Present
 We apply aggressive attention filters as nurse practitioners. We have to. We learned how to drink from the information fire hose in nursing school and NP school and take in what we absolutely needed to survive, and now we proficiently do the same thing as professionals.
So why don't we pay attention to people's names? We assume we are either going to remember them, or not, depending on what we perceive our "skill at remembering names" is. It's time to debunk that myth.
Pay Close Attention For The First Five Seconds When You Meet Someone
 When they say their name, listen to how they say it, and repeat it a few times in your brain and "hook" it onto something memorable about them or their medical history. Undoubtedly you created numerous memorization tricks for yourself in school, but the key here is to apply them EVERY time you meet a new patient, or one you keep forgetting.
"That's It?" You May Ask. Yep, That's It.
 My friends still constantly make fun of me for forgetting names, but my staff never did. In fact, they would frequently comment on how impressed they were with how many patient names and details I remembered. For some reason, my brain lets me put in the extra effort when it comes to patients, but refuses to let me connect with that brainpower with friends. Hopefully someday I'll reach the next level of mindfulness and start remembering new friends' names too.
Give It A Try, Even Just For A Day
 Give the above a try, even just for a day. If it doesn't work after a day, or takes too much effort, dump it. However, you may be surprised how quickly you establish rapport with new patients when you show them immediately how interested you are in them, just by inserting their name into your long-term memory.
Take Care of You,
Samantha