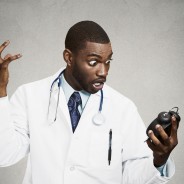 In a word: Boundaries.
Some patients need much more than you can give. They expect you to be their psychologist, doctor, nurse, financial advisor, transportation advisor, parental authority, relationship coach and life coach. It's not the patients' fault. Society tells them "the doctor knows everything." And that includes you, nurse practitioner, whether you like it or not. So they expect you to wave your magic wand and solve all their problems.
I bet you've tried to be all those things to patients at different times, too. I know I have. But giving more than you are able is a short, well-paved road leading straight to stress and burnout.
read more